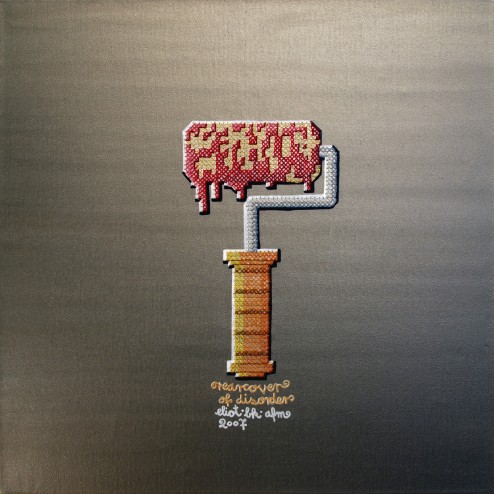 In case you missed my first Embroidery Series "Opus 1", follow that link an have a look.
http://www.flickr.com/photos/eliotbk/sets/72157621433085763/
This was my first 10 pieces of cross stitch work on canvaes. The background is aerosol paint, outlines and highlights are done with paint-marker. Yarn is from the brand Anchor ( i didnt found a store in Berlin who sells DMC yet). Size of each canvas is 60×60 cm. I presented these at the "GGG – Geezer Graff Gala" Feb. 2009 along with artwork by Evol, Pisa73 and Base23. Since then they got a long pretty well, have been shown around Germany (Stroke, ATM Gallery, Infusion#3, and many more), in Vienna (INOPERAbLE Gallery) and had quite some attention in the Web and Press.
Oh, yes of course these are for sale – hurry up, half of them are allready gone : )