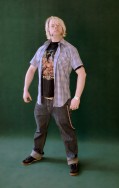 One fine summer day, Eliot Markus Henning sat in the garden of his parents flat in a suburb of Munich. The year was 1987, and Eliot had the illustrated book "Subway Art" of the New York photographer Martha Cooper in his hands. He opened the first page, saw the graffiti that decorated the streets and trains of New York, and knew: "That's what I want to do!"  That he would eventually create graffiti not by spray can but to embroider by hand on canvas,  still stood in the stars for 15-year-old Eliot.
In 1988, Eliot joined two of Germany's oldest graffiti networks, "BK – Bad Knaves" and "AFM – Art For Money", and employed his first commercial graffiti gig painting for a mobile phone manufacturer. Earning 600 Marks, he had the realization of how to make money doing what he loves, and that is what he wanted.  His new perspective was a contradictory shift within the street art mentality, as the illegality of graffiti is like embroidery to the grandmother.
"Of course there are many who say that graffiti is just graffiti, if it rolls on steel", says Eliot.  "I don't care. For me it is an art form, a lifestyle, no matter which and on what medium you choose."  Eliot does not like restrictions and style pigeon holes.  "Actually, one want to break the norm by graffiti and blithely enter new territory, but then the scene clinches on to superficial rules. Not my deal."
Some 20 years later, Eliot looks back on a diverse and successful career. He is not only a specialist in 3-D animation film, but is a pioneer of German street art, characterizing the graffiti, comic, and beatbox scenes throughout the country. He is a founding member of the  first comic and graffiti associations, published the first German rap – freestyle and beatbox records, has been a part of  artistic  teams for the first German-based multimedia, internet and 3D cinema productions, published countless comics, performed live shows globally with his unique beatbox style, curated exhibitions, and has had repeated appearances on mainstream media platforms such as Playboy, the television show "Herzblatt" (German version of "The Dating Show") and MTV.  Eliot has worked with high profile musicians such as Michael Mittermeier (gold disc award), the Guano Apes, Lou Bega, the Black Eyed Peas, the Kessler twins as well as being a huge asset of the Classical Orchestra "The Berlin String Theory ".  Eliot developed and created Beatbox samples for the popular audio software company, Native Instruments, and Apple's "GarageBand", and can be heard on more than 25 record releases.
Always one to violate graffiti rules, he began to embroider the first graffiti designs on canvas.  "The fact that a guy like me sits down and sews, that leaves many surprised." He has zero fear of contact. On the contrary:  "Embroidery for me is like meditation."  The creative process is short. Once the draft is on paper, contemplative hours follow in which the needle is pulled through the canvas, again and again. Eliot needs some good 20 hours for a piece. The first embroidered painting was of a robot and this 2004 edition was sold within hours of display.
Eliot sees himself as an entertainer with paintings having a message but without forcing statements on the viewer.  His art is not to moralize, not to politicize and not to bring wisdom to man. Eliot wants to, above all things, entertain and be macho about his work ethic.
———————————————————————————————
CONTACT
Please feel free to send me a Comment, ask for Pricelist, Interviews, Gigs, Collaborations or just the Answer to the Ultimate Question of Life, the Universe and Everything.
...
———————————————————————————————
NEWSLETTER
Get news and special promotions first hand.
No worries, it wont be often. Probably 6 mails a year.
You can unsubscribe easy, any time, no questions asked.
Give it a try. I made you smile already : )
Thank you very much !
.
::
–Impressum—————————————————————————
Markus "Eliot" Henning / Schachnerstr. 7 / D-81379 München
Inhaltlich Verantwortlicher gemäß § 55 Abs. 2 RStV: Markus Henning (Anschrift wie oben) Haftungshinweis: Trotz sorgfältiger inhaltlicher Kontrolle übernehmen wir keine Haftung für die Inhalte externer Links. Für den Inhalt der verlinkten Seiten sind ausschließlich deren Betreiber verantwortlich. Eine Telefonnummer ist laut Urteil des Europäischen Gerichtshofs vom 16.10.2008 (C-298/07) nicht erforderlich, es gibt ein Anfrageformular. Gemäß § 28 BDSG widerspreche ich jeder kommerziellen Verwendung und Weitergabe meiner Daten.